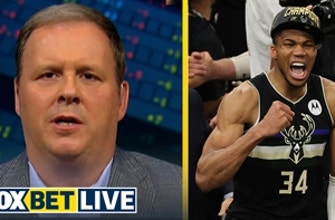 Cousin Sal, Todd Fuhrman and Rachel Bonnetta react to Giannis and the Bucks winning the NBA Championship. They make their way too early predictions on which team is the best bet to win the 2022 Title.

2 HOURS AGO・FOX Bet Live・6:15
Featured
Carson WentzPhoto: Getty Images This Carson Wentz experiment isn't off to a good start....

Lamont Marcell Jacobs made history on Sunday when the 26-year-old sprinter became the first...

Carli Lloyd is justifiably unhappy.Photo: Getty Images The U.S. wouldn't have had much argument...