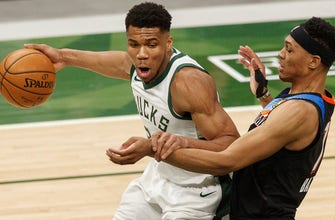 Giannis Antetokounmpo won't be selecting the 2020-21 All-Star rosters as a team captain like he did that past two seasons, but that's OK.
The Greek Freak has been dishing out duties to his teammates all season long.
Through 34 games, Antetokounmpo is averaging 5.8 assists per game, barely behind his career-best of 5.9 per contest set in 2018-19, his first MVP campaign.
When Antetokounmpo passes the rock, it's usually for a Milwaukee teammate waiting on the 3-point line. In fact, 62.9% of assists from the back-to-back MVP result in a 3-point make for the Bucks. That's the second-highest clip in the NBA, trailing Los Angeles Clippers forward Kawhi Leonard (65.7%) and just ahead of Toronto's Pascal Siakam (59.4%).
There should be plenty of opportunities for Antetokounmpo's teammates Thursday night when the Bucks pay a visit to the Memphis Grizzlies to wrap up the first half of the 2020-21 regular season. The Grizzlies (16-15) allow the 11th-most drained 3s per game (13.2) and the ninth-highest opponent 3-point percentage (37.7%).
Don't expect a tight matchup Friday night.
The Grizzlies' last 18 games have all been decided by at least nine points, which matches the longest such stretch in NBA history. Marques Johnson, Sidney Moncrief and the Bucks also notched 18 straight games decided by 9+ points in 1980-81. Memphis is 9-9 in that stretch, while the 1980-81 Bucks were more of a dominant force and went 14-4.
Plus, games played by Memphis and Milwaukee this season have been decided by an average of 14.9 and 14.8 points per contest, which ranks fourth and fifth in NBA history since the absorption of the ABA in 1976.
Let's hope the Bucks are on the right side of the blowout.
The game between Milwaukee and Memphis will be aired on FOX Sports Wisconsin, with "Bucks Live" beginning at 6:30 p.m.
Statistics courtesy Sportradar
//Attach the script tag to the page (before the first script) so the magic can happen. let firstScript = document.getElementsByTagName('script')[0]; firstScript.parentNode.insertBefore(script, firstScript);
}; let googlePixelLoader = function(){
window['google_conversion_id'] = 832239217; window['google_conversion_label'] = "TccACP23rXkQ8ezrjAM"; window['google_remarketing_only'] = false;
getScript(window.location.protocol + '//www.googleadservices.com/pagead/conversion.js'); }; let fbPixelLoader = function(){ /* from https://fng-jira.fox.com/browse/FSCOM-12494 - Facebook Pixel Code */ !function(f,b,e,v,n,t,s) {if(f.fbq)return;n=f.fbq=function(){n.callMethod? n.callMethod.apply(n,arguments):n.queue.push(arguments)}; if(!f._fbq)f._fbq=n;n.push=n;n.loaded=!0;n.version='2.0'; n.queue=[];t=b.createElement(e);t.async=!0; t.src=v;s=b.getElementsByTagName(e)[0]; s.parentNode.insertBefore(t,s)}(window, document,'script', 'https://connect.facebook.net/en_US/fbevents.js'); fbq('init', '161811331078914'); fbq('track', 'ViewContent',{content_name:'Mobile_App_Install'}); }; } }());



Source link