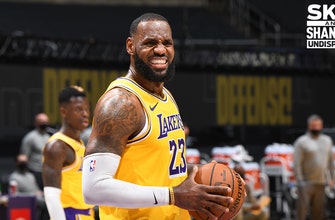 Yesterday, a map went viral that used twitter data from the past month to show each state's most hated NBA player. And, not surprisingly, Los Angeles Lakers' LeBron James was the most disliked baller in 24 states as well as the most hated overall. Kyrie Irving came in second, with 18 states disapproving of the Brooklyn Nets point guard, followed by his teammates James Harden and Kevin Durant with 3 states each. Chris Broussard joins Shannon Sharpe and Skip Bayless to explain why LeBron is so disliked.

AN HOUR AGO・Skip and Shannon: Undisputed・4:08
Featured
This is the face of a man who says he's been hacked.Image: Getty Images...

Nikita Kucherov missed the regular season after hip surgery.Image: AP The NHL will get...

Do not fight it. Give in. It will happen anyway.Image: Getty Images I'm glad...