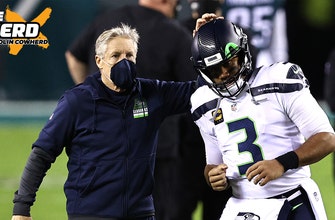 Colin Cowherd breaks down why Russell Wilson and the Seattle Seahawks have found the perfect balance of power within the organization. Hear why Colin believes that Pete Carroll's willingness to listen to Wilson's plea for help has made the Seahawks a better organization.

AN HOUR AGO・The Herd with Colin Cowherd・5:20
Featured
Carson WentzPhoto: Getty Images This Carson Wentz experiment isn't off to a good start....

Lamont Marcell Jacobs made history on Sunday when the 26-year-old sprinter became the first...

Carli Lloyd is justifiably unhappy.Photo: Getty Images The U.S. wouldn't have had much argument...