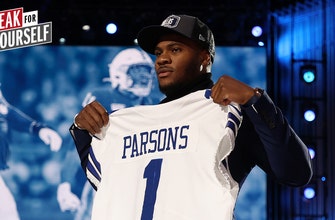 Greg Jennings joins LaVar Arrington and Ric Bucher to discuss whether the Dallas Cowboys' offseason moves have made them a legit contender in the Nation Football Conference. Hear why LaVar believes the Cowboys must first prove themselves in the NFC East, before having a chance at the NFC championship.

38 MINUTES AGO・Speak For Yourself・2:30
Featured
Screenshot: Denver Broncos Quinn Meinerz gives us all belly laughs — literally You may...

How will Tom Brady and the world champion Bucs fare this year?Image: Getty Images...

A 41-year-old Ohio massage therapist targeted several Ohio State football players as part of...