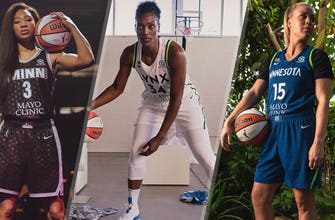 To celebrate the 25th anniversary of the WNBA, the Minnesota Lynx unveiled three new uniform editions Thursday, dubbed the Heroine, Explorer and Rebel.
The Lynx will wear the threads throughout the 2021 campaign. Each jersey celebrates a different community attribute of Minnesota.
The Heroine edition is a white jersey with "LYNX" written across the chest and green and blue trim down the side. The Explorer edition is a blue uniform with green trim and "Minnesota" written across the front. And finally, the Lynx are debuting an all-new look with the Rebel edition, which is black and has "MINN" on the chest, a font inspired by the legendary First Avenue in Minneapolis.
For a closer look at each uniform, click here.
}; let googlePixelLoader = function(){
window['google_conversion_id'] = 832239217; window['google_conversion_label'] = "TccACP23rXkQ8ezrjAM"; window['google_remarketing_only'] = false;
getScript(window.location.protocol + '//www.googleadservices.com/pagead/conversion.js'); }; let fbPixelLoader = function(){ /* from https://fng-jira.fox.com/browse/FSCOM-12494 - Facebook Pixel Code */ !function(f,b,e,v,n,t,s) {if(f.fbq)return;n=f.fbq=function(){n.callMethod? n.callMethod.apply(n,arguments):n.queue.push(arguments)}; if(!f._fbq)f._fbq=n;n.push=n;n.loaded=!0;n.version='2.0'; n.queue=[];t=b.createElement(e);t.async=!0; t.src=v;s=b.getElementsByTagName(e)[0]; s.parentNode.insertBefore(t,s)}(window, document,'script', 'https://connect.facebook.net/en_US/fbevents.js'); fbq('init', '161811331078914'); fbq('track', 'ViewContent',{content_name:'Mobile_App_Install'}); }; } }());



Source link