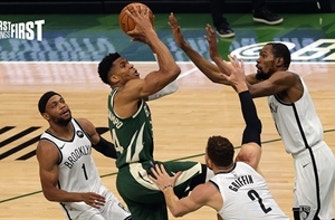 The Milwaukee Bucks took Game 3 vs the Brooklyn Nets last night. The Bucks used a 'defense-first mentality' to hold the Nets to 83 points. Nick Wright reacts to the game and discusses how Milwaukee should feel heading into Game 4.

AN HOUR AGO・First Things First・1:17
Featured
This is the face of a man who says he's been hacked.Image: Getty Images...

Nikita Kucherov missed the regular season after hip surgery.Image: AP The NHL will get...

Do not fight it. Give in. It will happen anyway.Image: Getty Images I'm glad...