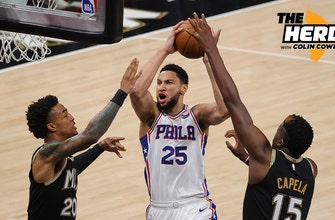 Ric Bucher joins Colin Cowherd to discuss whether the Philadelphia 76ers should make a move off Ben Simmons this current offseason. Hear why Bucher believes that Simmons needs a fresh start in the NBA, and that he is better off switching teams to find a more suiting role for his skillset.

2 HOURS AGO・The Herd with Colin Cowherd・2:59
Featured
Carson WentzPhoto: Getty Images This Carson Wentz experiment isn't off to a good start....

Lamont Marcell Jacobs made history on Sunday when the 26-year-old sprinter became the first...

Carli Lloyd is justifiably unhappy.Photo: Getty Images The U.S. wouldn't have had much argument...