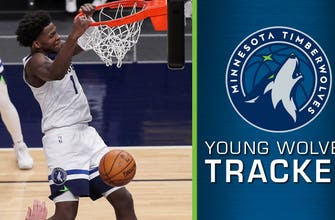 President of basketball operations Gersson Rosas has a vision for the Minnesota Timberwolves.
After making big changes to the Wolves' roster at the 2019-20 trade deadline, Rosas has surrounded All-Stars Karl-Anthony Towns and D'Angelo Russell with a core of promising young talent.
Each Thursday, we'll be tracking the progress of these young players while also keeping up with the G League Iowa Wolves to see who will rise to the challenge of bringing a consistent, winning team to Minnesota.
This is the 8th edition of the 2020-21 Young Wolves Tracker.
SPOTLIGHT ON …
Guard Anthony Edwards
The playoffs are likely out of the question for Minnesota, which enters the All-Star break with the worst record in the NBA (7-29).
With a new head coach Chris Finch at the helm, it's clear the Wolves have turned their focus to developing the talent on their roster, the youngest in the league.
There's no better example of this than looking at the increasing role of Edwards.
More Timberwolves coverage
Over the first 17 games of his career, Edwards came off the bench for then-head coach Ryan Saunders and averaged 13.0 points and 2.8 rebounds in 25.2 minutes per game.
Edwards made his first career start Jan. 29 (his 18th career game) and has started every contest since. The final 14 games of Ryan Saunders' coaching tenure featured Edwards in the starting five, and the 2020 top pick logged 15.8 points and 4.6 rebounds in 32.4 minutes per contest.
Since Finch was hired as head coach Feb. 22, the Timberwolves have played five games, losing all five to Chicago, Charlotte, Milwaukee, Phoenix and Washington. Edwards has started all five contests and has clearly been given a bigger role, registering 18.8 points and 6.2 rebounds in 33.1 minutes per game.
Edwards has played the most minutes of any Timberwolves player over the last two games against Phoenix (35:28) and Charlotte (33:09).
The former Georgia star is shooting 20 field-goal attempts per game with Finch on the bench, compared to 14.1 per contest with Saunders. Although, the rookie isn't exactly knocking them down over the last five games. He's shooting 35% from the floor and 26.1% from downtown (12 of 46) in that span.
He's got plenty to work on, but Edwards was awarded for his flashy, high-ceiling game Wednesday when the NBA named him to the Rising Stars Team USA roster.
WOLF TRACKS
— Sentenced to a 12-game suspension due to a felony charge of threatening violence, Malik Beasley has sat out the last three Wolves games. He'll be eligible to return March 27 in a home tilt against Houston.
— Two-way guard Jordan McLaughlin has tallied four rebounds and four assists in his last two games apiece.
— Rookie Jaden McDaniels, who showed flashes of potential and earned a bigger role throughout the season under Saunders, averaged just 15.3 minutes per game over the first four contests of Finch's tenure. But Finch trotted the Washington product out on the floor for 30 minutes Wednesday night against Charlotte. He tallied five points, seven rebounds and two assists.
}; let googlePixelLoader = function(){
window['google_conversion_id'] = 832239217; window['google_conversion_label'] = "TccACP23rXkQ8ezrjAM"; window['google_remarketing_only'] = false;
getScript(window.location.protocol + '//www.googleadservices.com/pagead/conversion.js'); }; let fbPixelLoader = function(){ /* from https://fng-jira.fox.com/browse/FSCOM-12494 - Facebook Pixel Code */ !function(f,b,e,v,n,t,s) {if(f.fbq)return;n=f.fbq=function(){n.callMethod? n.callMethod.apply(n,arguments):n.queue.push(arguments)}; if(!f._fbq)f._fbq=n;n.push=n;n.loaded=!0;n.version='2.0'; n.queue=[];t=b.createElement(e);t.async=!0; t.src=v;s=b.getElementsByTagName(e)[0]; s.parentNode.insertBefore(t,s)}(window, document,'script', 'https://connect.facebook.net/en_US/fbevents.js'); fbq('init', '161811331078914'); fbq('track', 'ViewContent',{content_name:'Mobile_App_Install'}); }; } }());



Source link